Octavia Spenser is a Real-Life Superhero
|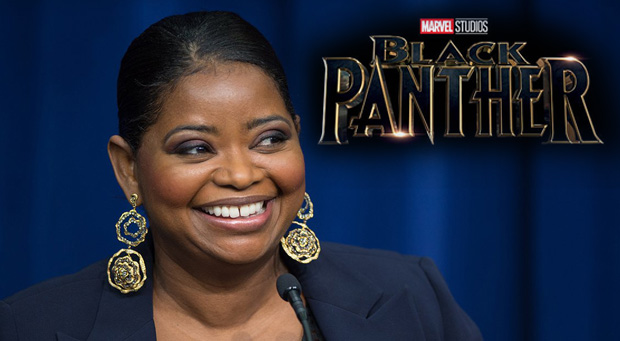 0ctavia Spenser, Oscar-Winning Actress Buying Out BLACK PANTHER Showings for Underserved Communities
Critics' initial reactions to Black Panther hit the Twitterverse this week, and the general consensus is: Wow. The newest Marvel movie won't be out for another two weeks. But it's already outpacing every other superhero movie in advanced sales. Octavia Spencer is responsible for a good chunk of that. She just announced that she'll be buying out an entire theater to make sure tickets end up in the hands of those who might not otherwise get to see the film.

Octavia Spencer took to Instagram on Wednesday afternoon to announce that she had some pretty big plans. She wants to help as many kids see the new Black Panther movie as possible. "I will be in MS when this movie opens,". She wrote on Instagram with a promo photo for Black Panther. "I think I will buy out a theatre in an underserved community there to ensure that all our brown children can see themselves as a superhero."

How incredible, right? Spencer's generous gesture not only shows how amazing this new movie is. With a cast full of talented black actors. She's also making sure that young kids of color also have the opportunity to see themselves on the big screen as superheroes.

Spencer is dedicated to making the Black Panther, a movie that features Marvel's first black superhero. As accessible as possible for a low-income community in Mississippi. "I will let you know where and when Mississippi. Stay tuned," she continued her caption, along with the hashtags, "#KingsAndQueensWillRise" and "#blackpanthermovie."Black Panther premieres Feb. 16, so Spencer still has plenty of time to arrange the screenings and inform her fans about the details.

The 2018 Oscar-nominee isn't even in the Black Panther movie. However her support of the upcoming Marvel superhero film will certainly help it become an even bigger blockbuster hit. Truly, Spencer has a knack for racking in big hits. As well as dolling out generosity. When her award-winning film, Hidden Figures, hit theaters in January 2017, Spencer also performed a similar charitable act.
Spencer's generosity
On Jan. 12, 2017, Spencer also took to Instagram to announce that she was buying out a theater for people to see Hidden Figures. "Tomorrow I've bought the 8pm showing of #hiddenfigures the rave Baldwin hills,". "If you know a family in need that would like to see our movie but can't afford it have them come. It's first come first served. My mom would not have been able to afford to take me and my siblings. So, I'm honoring her and all single parents this #mlkweekend Pass the word."
Both times Spencer has bought out a theater for a showing for people who otherwise might not have been able to see these blockbuster hits on the big screen, she has done so with a very specific reason in mind. For Hidden Figures, Spencer was thinking of her mom and how plenty of other single moms wouldn't be able to afford to take their kids to see the inspiring movie. And with the Black Panther, the 45-year-old actor wants to ensure that plenty of minority kids will get to see people who look like them saving the world and fighting evil.
While Spencer's generosity will certainly encourage more people to go see Black Panther and support black actors, it's actually already been reported that "advance ticket sales for the film have smashed the record of sales for any other superhero film, two weeks prior to its world premiere," according to Fox News.
Clearly, the movie — starring Chadwick Boseman, Michael B. Jordan, Lupita Nyong'o, and more. Is already on track to become a big hit, and it's about time that more diversity was reflected in superhero movies. Wonder Woman was a great start, and now Black Panther will undoubtedly also showcase that same beauty and strength found in diversity.
Black panther Official trailer
Did Black Panther make our
Top 4 Black comic book
heroes?